How a 22 year old can easily save an extra 500k+ with one change.
How a 22 year old can easily save an extra 500k+ with one change.
This post may contain affiliate links, which means I might make a small commission at no additional cost to you.
Have you ever done the math on how much drinking cheaper coffee will save you over the long term? It's mind boggling.
If you are 22, and you drink coffee 7 days a week, it will cost you 583K if you plan to retire at 65. 
I like spreadsheets. They provide crystal clear answers. So, I made one on how much coffee costs me.
A couple of years ago, I began thinking of financial transactions in my life through monthly cost, then yearly cost. Finally, I asked myself how much it would cost myself until retirement if I had invested that amount of money instead. There aren't that many transactions that I made on a daily basis that I could think about. They consisted of my 3 meals and my daily 2 cups of coffee from Starbucks or my local favorite coffee shop, Bibble and Sip (I affectionately call them B/S as a joke – they have the best cream puffs anywhere in the city and their cold brew is pretty amazing). While you're saving money, you can also lose weight by not drinking all that milk and sugar and get a company to pay you to lose weight!
How much do you pay for coffee? Don't lie to yourself.
Every time I walk past Starbucks or B/S, there are a ridiculous number of people in there. $4.5 for coffee used to be my norm too, until I realized how much it would cost me over the course of my life. Why did I pay that amount? Well, everyone I worked with got coffee (most) mornings and almost always in the afternoons. It became a way of life — a social norm that I adopted by accident. You might do this too, and not even realize it. I'm not saying you should cut out ALL your luxuries, just be choosy about the ones that matter.
Let's pretend you're 22, and you want to retire at 65 (I'm a proponent of Early retirement so this isn't entirely true, but let's imagine). Imagine investing that $4.5 you spend on coffee everyday and putting it in the stock market instead. How much do you think you'd come out with in 40 years when you retire at 65? Historical averages have the SP500 return ~8% a year, so I used that in my analysis*, but you can fiddle with the spreadsheet to your liking. If you're 22, get your financial life in order in these 5 easy steps.
That's where the tagline of this blog post comes from. Again, I repeat, If you are 22, and you drink coffee 7 days a week, that will cost you 583K if you plan to retire at 65. 
You can do this kind of analysis with every single category you spend on, not just coffee. In fact, I created a free course so you can optimize your spending. It also goes over basic investing and how to earn more money. 20,000+ words and an incredible spreadsheet, all for the low, low price of free. Sign up below if you haven't already.
There's no way it's half a million dollars.
Most of you are probably thinking something along the lines of : "How is that possible?!?", "What voodoo magic did she use to get her at that crazy place?".
All it is compound interest and investing that money that you would've spent into the SP500 instead. If you're 22, every dollar you spend today is worth $31 when you're 65 if you're assuming a 8% return. Pretty amazing isn't it?
How do I get coffee for cheaper?
Now, if you're like me and unable to give up coffee (I've tried twice but keep coming back to it, sadly), you can bring that down to $.7 per cup by just buying a Keurig and some K-cup pods. It's roughly 50 cents per K-Cup pod, so when I buy the 72 Count Donut Shop K-Cup Pods, that gets me 50 cents per coffee pod. You should check Costco/Sam's club as well to see if it's cheaper than Amazon. I live in a large metropolitan city where getting to those is prohibitive for me because I don't have a car, so getting it online is just easier.
I also bought my Keurig machine online, and you can buy a new one on Amazon for $70 here, or get a used version on ebay (just a little bit cheaper), here. This brings me to about 20 cents per use of the machine if we conservatively assume the machine breaks down in a year (it's been three years and the machine is still going strong!), but I'm sure mine will last years. But as they always said in accounting class, better to just be conservative!
Though coffee will cost me 100k (take Lifetime coffee cost  – Lifetime savings in the spreadsheet below) over the course of my life (I'm 25) if I have my donut shop Keurig coffee everyday, it's really not the end of the world for me. Every $4.5 saved daily equals 425k when I'm 65. It's really not that much to save every day, isn't it? Imagine doubling that savings rate and investing it — you'll now be a millionaire by 65. Being a millionaire isn't that difficult if you start at 22 and work your way up slowly. At 22, all it takes is just $8 in savings per day to become a millionaire by 65 if you invest it.
Save even more, retire even earlier
But why stop at being a half millionaire at 65? Save even more, and retire within a decade. These people did it, why can't you?
Use the same concept as the coffee savings story up there:
Do the math yourself on your own consumption: alcohol, coffee, eating out, clothing, etc.
Below I pasted the image of the spreadsheet I created to help you visualize how much you can save if you stop drinking coffee. You can also switch to a cheaper home-brewed version, or just substitute some other expense you make daily and think you can substitute/stop. If you want to manipulate the spreadsheet to your liking (you drink more than 1 coffee a day, your coffee doesn't cost $4.5 like mine used to, you think you can get cheaper coffee, want to see how much bringing food home vs going to Chipotle at lunch, etc), join my subscriber list below and I'll know where to send a copy of the spreadsheet so you can change it to your hearts desire :).
Since I've written this, I've thought about roasting my own beans, brewing cold brew (my favorite), instead of using my Keurig machine. I haven't done this yet, but when I do, I'll be sure to write up another post about it. It does take more time though, roasting your beans and then making cold brew. According to my research, you need to wait overnight. Sometimes I just want my hot delicious coffee in the morning :).
Let me know if you've figured this out before me, because I feel really silly that I spent $1600 on coffee at a coffee shop that could've compounded in a invested account. If you haven't yet, download the spreadsheet so you can see how much coffee is costing you and how much you could save. I'm not saying to completely give up coffee, just look for cheaper alternatives. Maybe one day I'll give it up, but as for right now, I'm fine with the future opportunity cost. Let me know if this has changed how you decided to view the cost of coffee. Are you going to implement a cheaper alternative? If you have cheaper suggestions, please do let me know as well! 
 Happy saving, all!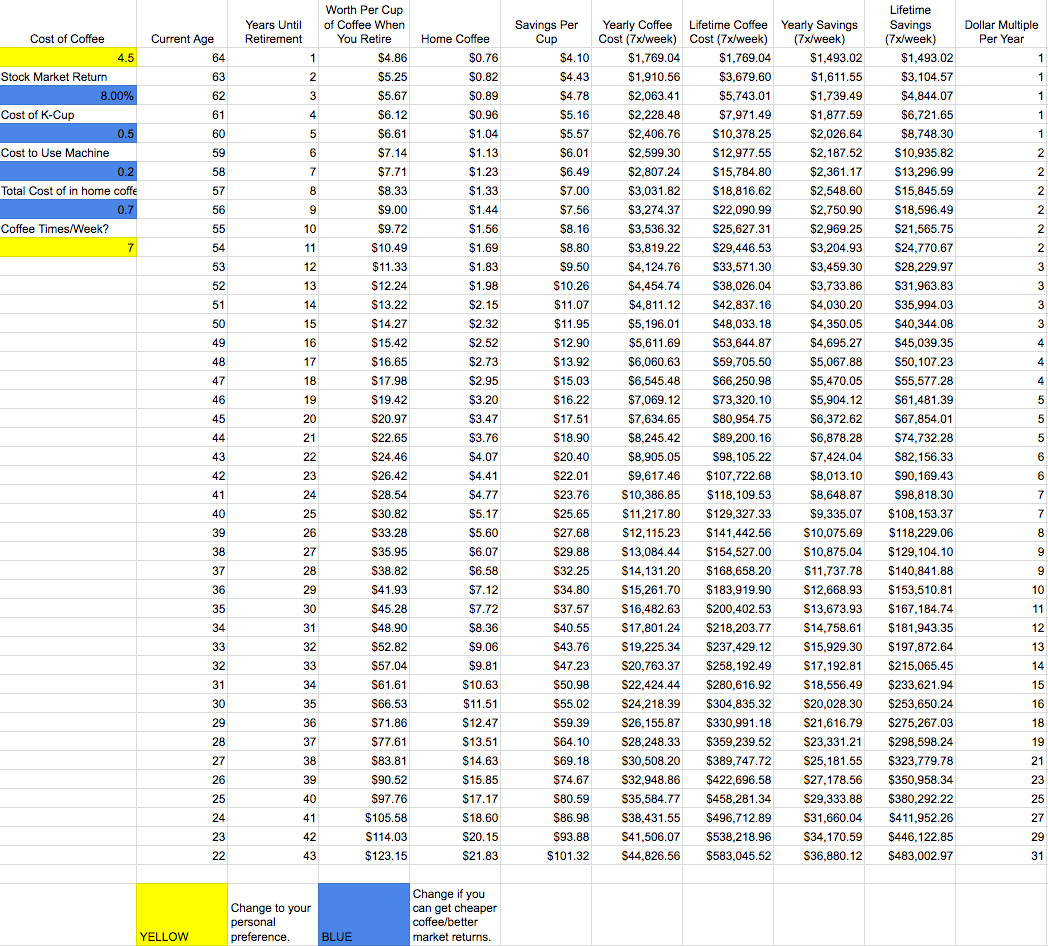 I hope this is helpful to some of you! Let me know what topics on money you'd like me to write/whip up a spreadsheet for in the future:).
_______________________________________________
*You might have noticed that I assumed you would have saved the lump sum of the coffee at the beginning of each year instead of assuming the dollar amount gets invested every single day. Yes, I know the number is different, but I assume it would be eye-popping still. One day I'll come back and redo this and probably just use the FV function for daily recurrence. Until then, I think the purpose of the exercise is still good. Basically, save your money and drink coffee at home instead of at Starbucks/your favorite local coffee shop.
Author:
Olivia
Olivia worked in finance and wants you to learn the secrets of financial independence. She believes there are so many ways to monetize your life and make money doing the things you're already doing because so many companies offer free money.
The average savings account rate is 0.1%. The big banks have incredibly low savings accounts rates. CIT Bank offers a 1.75% savings account. You can open an account with just $100 and no monthly fees or charge . Tired of being charged fees and getting peanuts in interest at your current bank? Open a CIT Bank savings account in less than 15 minutes online.
If you have a car, Rideshare apps allow you to pick a direction you want to go twice a day, so you can get extra money going somewhere you were driving to anyway at least twice a day. Get a $300 sign-up bonus with Lyft.
One of my favorite ways ways of monetizing my life is via credit card bonuses with cards that give you cashback or rewards. Check out our review of the Chase Sapphire cards, which give you at least $500 in cash or $625 in travel credit.